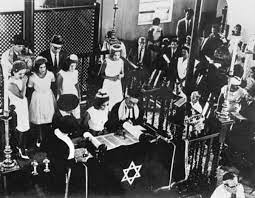 On December 25th, 2022, on the final night of Hanukkah, the ribbon cutting for Jamaica's Chabad house was held. This new Jewish institution is of particular importance because it holds the first mikvah to be built on the island. A mikvah is a bath that is used for immersion in certain Jewish rituals. Jamaica's Jewish community has deep roots, but their history has often been overlooked and forgotten.
The first Jews to come to Jamaica arrived throughout the 1500s. They came fleeing the Spanish Inquisition and religious persecution in Portugal. While the island was under Spanish control, the local government refused to allow the Inquisition to set up a base there. It was still illegal to practice Judaism but there were no means of punishment for getting caught doing so.
In 1655, the British Empire took control of Jamaica from Spain. The British changed policies to allow Jewish immigration to Jamaica and permitted the open practicing of Judaism. Jews flocked to the island in search of opportunity. They were able to find success as merchants and traders. Some Jews instead turned to a life of piracy. One Jamaican Jew, Moses Cohen Henriques, became an advisor to the famed Captain Henry Morgan himself.
Soon after the British takeover, the Jewish community of Jamaica built their first synagogue in Port Royal. Sadly, it was destroyed during an earthquake on June 7, 1692.
Jamaica had far more progressive rights for Jews than England did at the time. Jews were allowed to hold government office there before they could in Great Britain proper. The Jewish community grew and thrived through the 1700s and 1800s.  Many Jews decided to join the Jamaican Assembly. In 1866, 13 of 47 assembly seats were held by Jews. The Jewish population peaked in 1881 at around 22,000.
In 1885 Shaare Shalom synagogue opened in Kingston. It is still operating today and is currently the only synagogue on Jamaica. Shaare Shalom has a relatively unique feature: a floor that is covered in sand. You can read more about synagogues with sand floors here.
Unfortunately, at the beginning of the 20th century the Jamaican economy fell into a downturn. Many Jews left the island to find opportunities in other countries.
During World War II, Jamaica was used to set up camps to house British people forced to flee from Gibraltar. These camps were nowhere near full, so they were also used to house Jewish refugees. Throughout the war around 1,400 Dutch and Polish Jews were placed in Jamaica. Their time at these camps were a mixed bag. They were safe from the Nazis and were even able to enjoy the natural beauty of Jamaica. On the other hand, the camps had very restrictive rules. Jews were not allowed to work, could only leave the camps if they applied for permission, had a curfew, and were often seen as potential spies.
After the war ended, the Jewish refugees in Jamaica still had difficulty finding work, so many moved elsewhere.
Jamaica declared independence from Britain 1962. The island nation's first ambassador was a Jew named Neville Ashenheim. Unfortunately, with independence came political instability in the 1970s. This caused another wave of Jewish immigration off of the island.
Today the Jewish population of Jamaica is only 300-500. The community is centered in the city of Kingston. There are only two places of worship on the island, the Shaare Shalom Synagogue and the Chabad House.
Even with a small size, the Jewish community of Jamaica is vibrant. They are not fading away but are building new connections and institutions. With their first Mikvah, there is a bright future for the Jewish community of Jamaica to grow and flourish.
Further Reading:
You can read more about the history of Jews in Jamaica here, here, and here.
You can read more about Jamaica's first mikvah here.