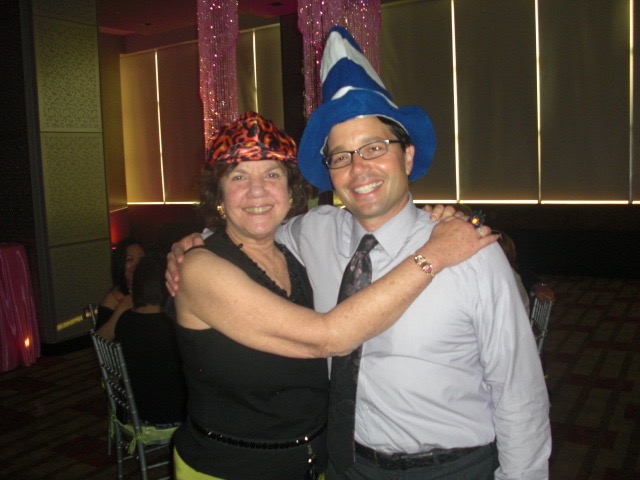 After my mom died (November 2015), she taught me so much about life, including both how to mourn and how to rejoice. It is my hope that by sharing my journey of grief and renewal over the past year that it may bring comfort to you when you lose a loved one.
Among the most significant lessons I learned was the value of living the rhythms of both the Jewish life cycle and the annual calendar cycle. Together, they provided me with a meaningful ritual framework in which to mourn, reflect, and celebrate again. Although the holidays seemed like they would contain a major void with the loss of my mother, observing them with family and friends actually helped me process my loss. I learned that a broken heart allows light in.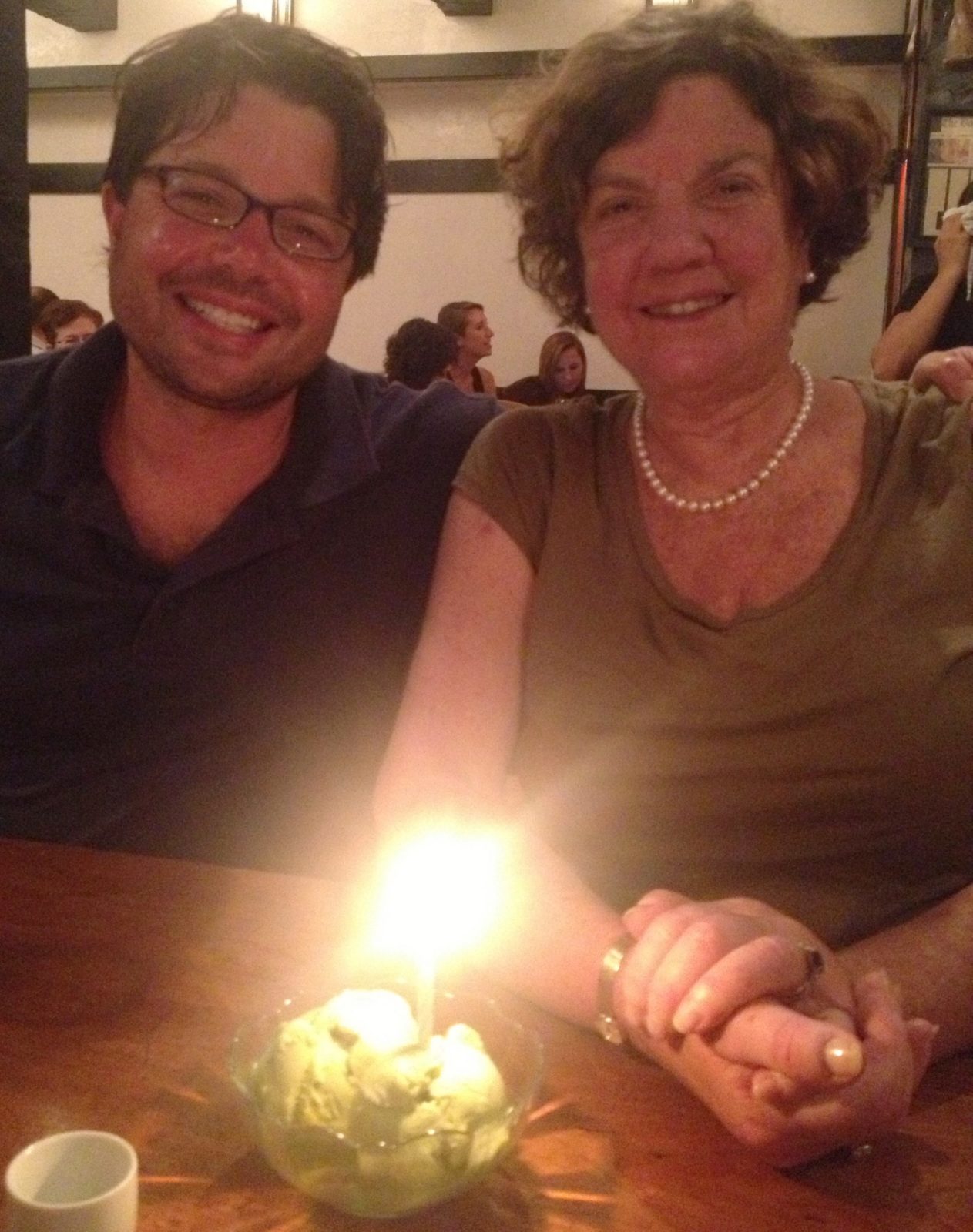 When my mom died I felt a tremendous sense of loss and I was overwhelmed with grief. I was so much at a loss that I completely immersed myself in the Jewish mourning traditions. The first step was to plan the funeral. This involved three activities: the funeral logistics, writing a eulogy, and assembling photos of my mom and of my family for a photo montage.
Each of these activities engaged a different facet of myself: the funeral logistics occupied my mind, reviewing and assembling photos occupied my heart, and writing my eulogy occupied my soul.
Our family was fortunate to have unity among the three brothers in planning and participating in my mom's funeral. We actually had two services, one in Allentown, PA where she lived most of her life, and a second, more formal service and burial in the Berkshires in Massachusetts. The Berkshires is the heart of our family and the site of so many family gatherings. It stood out to me as the perfect location for my mom's final resting place. She would have loved the view from the top of her hill.
After the funeral, we followed several of the Jewish traditions of Shiva. This is a seven-day mourning period during which family and friends visit your home, bring food and drink, and comfort you. During this first period of mourning I did not do any work, cooking, or exercise. Although I had no idea what to expect or say when the first people came to pay their respects, I quickly found the days of Shiva to be very helpful. Our rabbi would come each evening and lead us in prayer, including the recitation of the Mourner's Kaddish, which I, as the mourner, said publicly in the presence of my family and friends. Since it is a longstanding tradition to say the Kaddish with a minyan (10 Jewish adults), my friends' presence became an important gift to me and a way of honoring my mom. On the final morning of Shiva, I took a meditative walk around the block with family and friends to signify re-entry into "semi-normal life." When the rabbi first mentioned this tradition, I didn't think much of it, but it felt very moving to take these next steps in the mourning process in a focused and concrete way.
The next period of Jewish mourning is known as the Shloshim. This is the 23 days following Shiva; the first 7 days of Shiva plus the 23 days equals 30, which is what Shloshim means in Hebrew. During this period, I returned to work and slowly readapted to "normal" life. During the Shloshim period, I attended a minyan every afternoon to recite the Mourners Kaddish. I was fortunate to find a service near my office. Although I understand only bits and pieces of the Hebrew prayers, I found comfort and support in community. Saying the Kaddish also helped me feel connected to my mom. On Friday nights, we attended services at our temple, where my mom's name was read aloud just before the Mourners Kaddish. This gesture helps others know who is in mourning and may need extra support. I found the Shabbat services poignant because they inevitably involved different lifecycle moments: a baby naming, a bar or bat mitzvah, an engagement, a birthday or anniversary, and a death. It was an important reminder of the fullness of life.
In our case, Thanksgiving fell directly within the Shloshim period. I really did not want to celebrate Thanksgiving. I did not want to cook and remember all of the wonderful times that we prepared and celebrated Thanksgiving with my mom in the Berkshires. It just didn't seem right. Nevertheless, I followed the path. I put one foot in front of the other and tried to live into the seasons. My brothers and I decided we would have a festive Thanksgiving to honor the spirit of our mother. We cooked our usual feast, with one exception: my younger brother, Alex took our mother's place as the pastry chef and made her famous apple and pecan pies. In the midst of our tears, we found comfort gathering as a family. We planted a tree in mom's honor and replanted a few gnomes from her garden, which we had brought to their new home in the Berkshires.
As fate would have it, our Shloshim period ended the day before Hanukkah. As was the case with Thanksgiving, I had mixed feelings about the arrival of Hanukkah. However, this year, Hanukkah took on even more significance than usual because we launched Breaking Matzo: Hanukkah Edition just two days before my mom died. Knowing the end was near, I envisioned this project as a tribute to my mom. I was so moved to show her the new edition to the website while she was in the hospital. Mom was so happy and smiled as she listened to our theme song and watched the fun-filled videos of my kids making menorahs, dreidels, and latkes. As a result, our Hanukkah celebration took on extra meaning as we basked in the light of the menorah and felt my mom's spirit with us.
I continued to stumble through the year. Each holiday brought with it a new first: the first New Year's Eve not to call her to say "Happy New Year," the first Valentine's Day not to send her a card, and of course, the first Mother's Day not to thank her for all she had done for us. Step by step, with the love and support of my family and friends, I learned to move forward.
After Passover, I had a wonderful trip to Israel where I felt my mom's presence and discovered new connections with her. I felt a renewed sense of life's possibilities, and a desire to engage in life more fully. In my own way, I felt like my mom was communicating with me. It brought me unexpected joy.
As I approached the end of my year of mourning, I realized that the final Jewish holiday I would celebrate during this period of remembrance was Succot. Succot is the festival of booths and a holiday dedicated to rejoicing. We are commanded to "dwell" in our succot for 7 days and to eat, drink, and be joyous with our family, friends, and community. In my mom's case, her last visit to our house came just after Succot. I left our succah up an extra two weeks so that my mom could participate in some way in our family celebration. Interestingly, when I was going through boxes from her house, I found an article she had written about Succot in the 1980's. In the article, she spoke of leaving up her succah for two weeks so that an elderly neighbor who was away during the holiday could enjoy seeing the next generation celebrate the festival. My mom truly loved Succot. We had so many wonderful memories together in our succah.
It seemed to me an amazing coincidence that Succot would begin and end my year of mourning. In thinking about the origins of this ancient holiday, I turn to two primary images of the succah: the first is the humble tents that the Israelites dwelled in after escaping from slavery in Egypt. At this stage of their development, the Children of Israel had nothing, except for their faith in God, who provided for them in the wilderness. The second image of the succah is one of abundance, as the Israelites settled in the land of Israel and created temporary booths to collect the annual fall harvest. As I celebrated Succot this year, I was reminded of my own two succahs: the sadness of my mom's passing, and the blessings of her memory. As my daughter Lucy said in her eulogy for my mom, "I don't remember everything that Nana taught me, but I will always remember how she made me feel." Mom, you have always been there for me and made me feel full of love. Thank you.
There is nothing more difficult than saying goodbye to a loved one but having a year-long period to mourn, remember and celebrate a family member who has passed is a very meaningful experience that helps mitigate the loss, focus on their life, and how we want to live our lives.
Related Reading:
A Brief Guide to Jewish Mourning: Honoring Our Loved Ones & Life