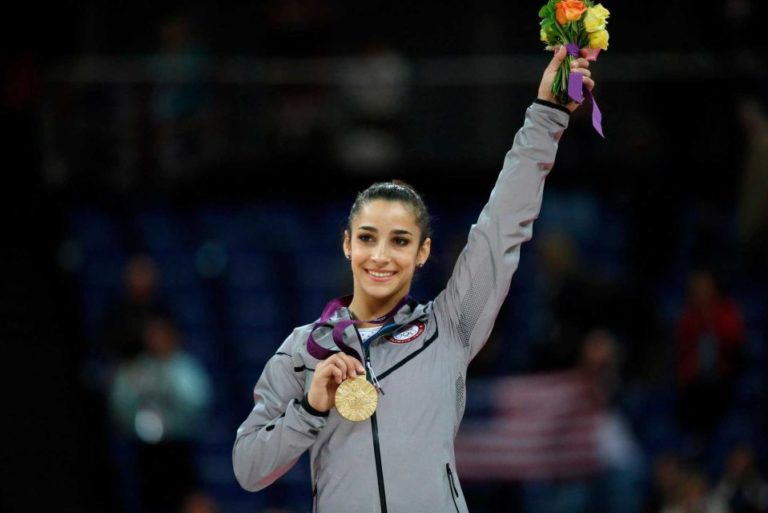 This is the first blog written by Andy's daughter Caroline (age 21) for Breaking Matzo
On January 19th, Olympic gymnast Aly Raisman told Larry Nassar, former USA Gymnastics national team doctor, that "the tables have turned," and she and her "army of survivors" were "not going anywhere." She detailed her experiences with Nassar, her path to finding hope and strength in the wake of the abuse, and her hopes for improvement in USA Gymnastics. Raisman was speaking in court, testifying in the case that put Nassar in jail for sexually and physically abusing countless young gymnasts throughout his career. Raisman was one of many brave and strong women who spoke out about Nassar's evil behavior, and in doing so, inspired the nation.
This is only one part of Raisman's incredible journey – from ordinary to extraordinary. Raisman grew up in Needham, Massachusetts and began doing gymnastics at the young age of two. Like many other girls her age, she was in awe of the US's "Magnificent Seven," the group of young women who won gold medals in gymnastics at the 1996 Summer Olympics. After that, Raisman began to work harder than ever to master the sport, taking part in many national and international competitions before finally landing a spot on the 2012 team for the London Summer Olympics. In London, Raisman's lifetime of work paid off as she became the first American woman to win a gold medal in the gymnastics event, floor. But that wasn't the only thing that made this routine special. Raisman's floor routine was set to the ""Hava Nagila," a popular Jewish song traditionally sung at celebrations like weddings and Bar and Bat Mitzvahs. With this performance, Raisman not only became one of the most extraordinary American gymnasts of all time, but she did so while celebrating her Jewish heritage. The next year, in 2013, Raisman lit the inaugural flame of the Maccabiah Games, the Jewish Olympics. In 2016, Raisman helped the US team win another gold medal, and became the second most decorated American Olympic gymnast in history.
Since the Olympics, Raisman has been making an impact in other ways. She is a brand ambassador for UNICEF, speaks about body positivity and confidence through her part in American Eagle and Sports Illustrated campaigns, and has encouraged girls to pursue their athletic dreams through her work with Playtex Sport.
Aly Raisman is an important role model for children and adults, for young women and men, and for Jews and non-Jews alike. Through her gymnastics career, she has demonstrated the value of perseverance and shown young girls to never give up on their dreams. With her gold-medal-winning floor routine, Raisman chose to highlight Judaism and its importance to her life, bringing Jewish culture to the forefront of the international stage. And now, with her awe-inspiring testimony against Nassar, Aly Raisman has shown her extraordinary strength in overcoming her fears and facing her former abuser in order to seek justice for herself, the many others who survived Nassar's abuse, and countless gymnasts to follow. Aly Raisman has taught us to never let our fears of being ordinary stop us from becoming extraordinary. Thank you, Aly.