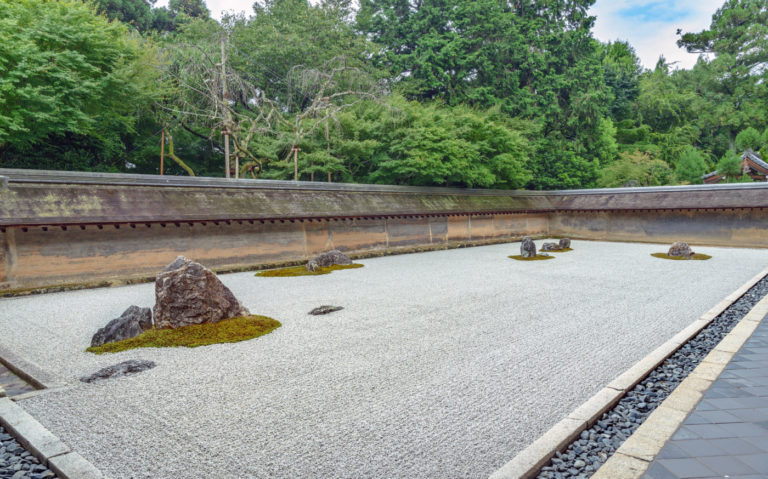 Why do we delay our dreams? What dream would you like to realize today?
When I was 15 years old, I won a scholarship (paid by Mazda Motor Corporation) to live in Kyoto, Japan as an exchange student. That summer I fell in love with Japan — the people, the culture, the food, and the language. In particular, I became obsessed with Japanese Zen Rock gardens. I visited more than 25 Japanese temples and gardens that summer. My favorite Temple was Ryoanji. Ryoanji was built in the 1400s during the Onin War. Despite the chaos in the surrounding area, Ryoanji was an oasis of calm and serenity. The hallmark of Ryoanji is the Zen rock garden which is about 2,600 square feet (80 feet by 30 feet) and has raked sand with 15 stones placed throughout the area. When you sit at the garden, no matter what angle you look from, you can only see 14 stones — one is always hidden from view. The Zen concept is that it is hidden and found inside your heart. It enables you to connect your inner spirit with your physical surroundings.
Ryoanji has captivated me since I was 15. I have always wanted a Japanese Zen rock garden. Always. I thought of it often. In January, I turned 50. Two weeks ago, I finally realized my dream and built my own Japanese Zen rock garden.  It really didn't take much — not much effort, not much money, and not much time.  It is a small space and didn't take much work. The materials were not costly and the maintenance is very easy — no need to clean or water.
I am so happy! I finally have my own Japanese Zen rock garden!  I am now asking myself — why did I take so long to realize my lifelong dream of having my own Japanese Zen rock garden? Why did I defer my dream?
I looked to the Torah to explore the idea of asking for something in a dream. In 1 Kings 3, King Solomon has a dream.
5 At Gibeon the Lord appeared to Solomon during the night in a dream, and God said, "Ask for whatever you want me to give you."
6 Solomon answered, "You have shown great kindness to your servant, my father David, because he was faithful to you and righteous and upright in heart. You have continued this great kindness to him and have given him a son to sit on his throne this very day.
7 "Now, Lord my God, you have made your servant king in place of my father David. But I am only a little child and do not know how to carry out my duties. 8 Your servant is here among the people you have chosen, a great people, too numerous to count or number. 9 So give your servant a listening heart to govern your people and to distinguish between right and wrong. For who is able to govern this great people of yours?"
10 The Lord was pleased that Solomon had asked for this. 11 So God said to him, "Since you have asked for this and not for long life or wealth for yourself, nor have asked for the death of your enemies but for discernment in administering justice, 12 I will do what you have asked. I will give you a wise and discerning heart, so that there will never have been anyone like you, nor will there ever be.13 Moreover, I will give you what you have not asked for—both wealth and honor—so that in your lifetime you will have no equal among kings. 14 And if you walk in obedience to me and keep my decrees and commands as David your father did, I will give you a long life."15 Then Solomon awoke—and he realized it had been a dream.
King Solomon asked for a listening heart. King Solomon did not ask for riches or power or honor. He asked for something more simple. Something that would help him connect with himself and with his community. King Solomon's listening heart allowed him to help communicate more fully with his community.
When I thought about the idea of a Japanese Zen garden and the search for the hidden 15th stone of Ryoanji, I realized it was directly connected to Solomon's dream of receiving a listening heart. The purpose of a Japanese Zen rock garden is to provide a space for tranquility and inner calm. Staring at the raked sand and simple stones help heal our heart and soothe our minds. We can truly connect with others and ourselves when we have a listening heart. Achieving a state of inner peace and contemplation can enable each of us to be more aware of ourselves and our surroundings.
What is your life long dream? Why defer it? Why not take today to realize it? Incorporating King Solomon's listening heart may allow you to more fully connect with yourself, your loved ones, and your environment. I hope you can also realize your proverbial garden dream.
Further reading:
I am overjoyed to have made an exciting and deeply meaningful addition to my Japanese Zen rock garden: a zenibachi. Tsukubai are stone water basins that are used in purification rituals and tea ceremonies. The zenibachi is a famous tsukubai located at the Ryoanji Temple in Kyoto.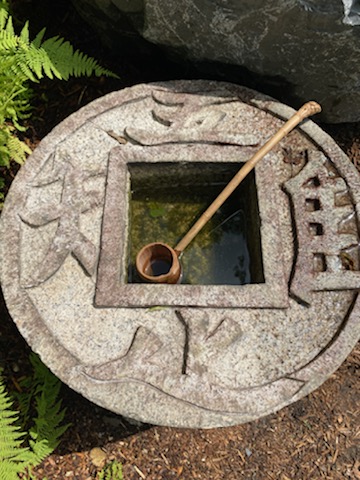 I first went to the Ryoanji temple in 1984. Below is a picture of me at the Ryoanji in 2007.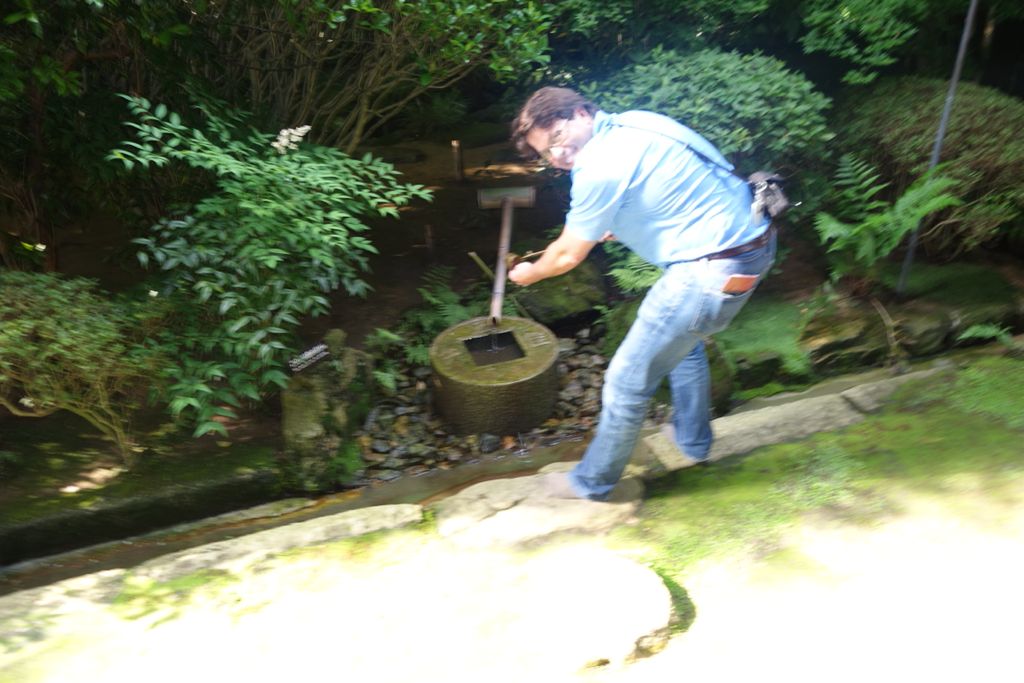 Now here is a picture of me with my own personal zenibachi in 2021.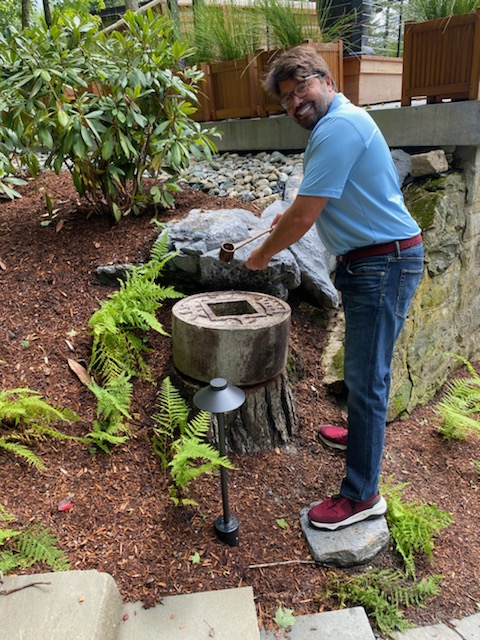 The zenibachi is shaped like an ancient Chinese coin. The round shape represents the Earth and the square cut into the center represents the heavens. There are four characters carved into it with the following meanings: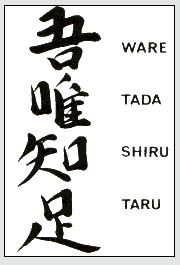 Together they translate to "I only know plenty", a quote with a myriad of meanings and inspirations. I interpret it to mean "I am content with what I have", a spiritual parallel to the Hebrew Dayenu: "It would have been enough." I am filled with joy each time I see this unique and meaningful structure. You can learn more about the zenibachi here.