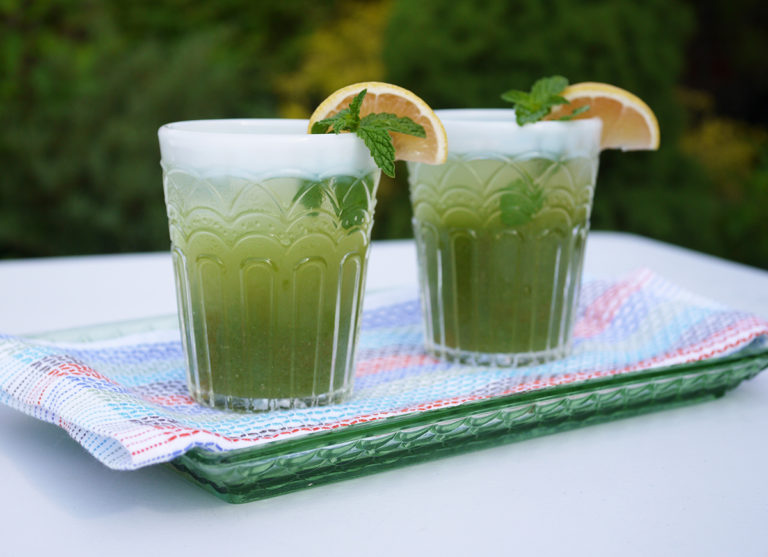 We go the extra mile with fresh lemons and mint to make this Lebanese inspired lemonade extra special. We recommend having a pitcher on hand for Succot, Rosh Hashanah, Shabbat or any day you want a thirst quenching beverage to share that's a little out of the ordinary yet familiar and nostalgic. Click here for our other Lebanese recipes.
Makes 6 cups
Ingredients
For Mint & Lemon Simple Syrup:
2 cups sugar
2 cups water
1 cup fresh mint
1 lemon, washed well and sliced
For Lemonade:
1 cup Mint & Lemon Simple Syrup (from above)
1/2 cup fresh mint
1 lemon, washed well, ends sliced off and seeds removed (keep skin on)
1/4 cup rose water
1 cup ice
1 cup filtered water
Instructions
Make Mint & Lemon Simple Syrup:
In a sauce pan, combine 2 cups water and 2 cups sugar
Simmer over low heat until sugar has dissolved
Remove from heat, add slices of 1 lemon and mint leaves. Cover pan and let steep for 30 minutes
Strain out mint and lemons and pour simple syrup into a glass container
Refrigerate
Make Lemonade:
Blend all Lemonade ingredients at high speed
Strain liquid and serve in a pitcher with more ice or refrigerate
Notes
You can make the simple syrup ahead of time and keep it chilled in the refrigerator for about a month. Add a little vodka for a pitcher of refreshing cocktails.