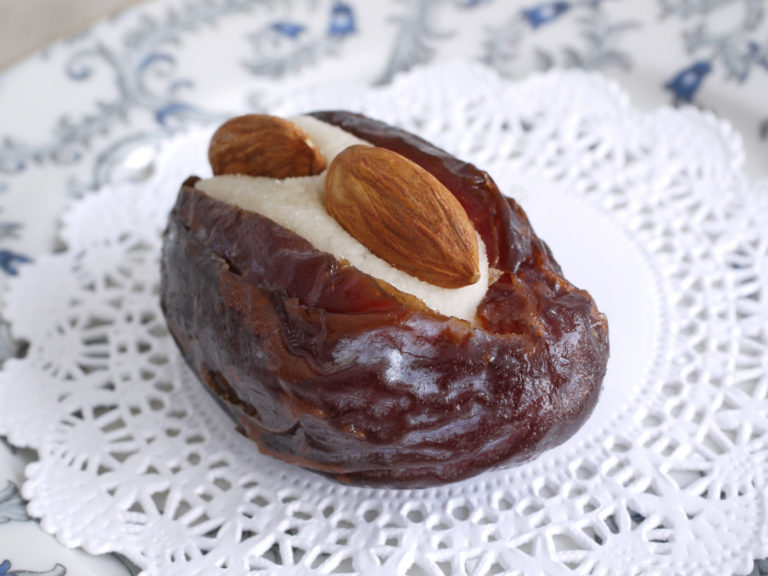 This is a delicious dessert and fun family cooking project for your kids to help with! Making marzipan (almond paste) is easy and everyone can take part in creating their own unique stuffed date by picking the nuts of their choice or dipping them in chocolate. Almonds are a sign of spring so it's delightful for Passover. 
Our marzipan stuffed dates are vegan and can be served at your Passover Seder, Succot or any fun family gathering. 
Makes about 2 dozen Stuffed Dates
Ingredients
For Marzipan:
2 cups almond flour (or blanch, grind and dry your own almonds)

1-1/2 cups confectioners sugar

2 tsp almond extract

1 tsp rose water 

1 egg white 
For Stuffed Dates:
Marzipan (either make from scratch per above or buy)

24 Medjool dates, pits removed

24 almonds (you can use any kind of nuts you like or even dip in chocolate)
Instructions
Make the Marzipan: 
Put the almond flour and confectioners sugar in the bowl of a food processor and pulse until combined

Add almond extract and rose water and pulse again to combine

Add the egg white and process until a thick dough is formed

Remove the marzipan from the food processor bowl and form it into a log. Wrap it up in plastic and refrigerate.
Stuff the Dates
With a small spoon, scoop a little of the marzipan into each date leaving room for an almond

Garnish each with almonds or chopped nuts of your choice
Notes
You can make the Marzipan weeks ahead and store in a log shape, wrapped in plastic, until you're ready to use it.