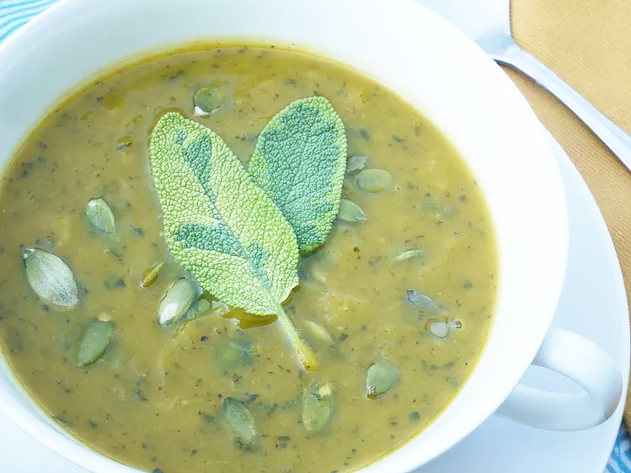 In New England, the harvest of butternut squash is synonymous with the welcoming of the beautiful Fall weather and vibrant foliage. Butternut squash is a vegetable that takes us straight through winter so we're always able to have a colorful, nutritious bowl of soup on the table.
Serves 8-10
Ingredients
2 tbsp coconut oil or extra virgin olive oil
1 large butternut squash, roasted whole for 1 hour at 375 degrees
1 head of fennel, roughly chopped
3 cups kale, tough stalks removed and roughly chopped
2 green apples, peeled and roughly chopped
2" piece of ginger, peeled and chopped
½ large Vidalia onion, peeled and roughly chopped
4-5 cups vegetable stock (depends how much water content is in your squash and how thick/thin you like your soup)
3 cloves garlic, smashed
2 tbsp cumin
1 tsp turmeric
½ cup roughly chopped fresh sage + additional whole sage for garnish
pumpkin seeds for garnish
salt and pepper to taste
Instructions
Roast butternut squash whole in preheated 375 degree hour for one hour (it's okay if it's still a little firm as it will continue to cook in the broth). Let cool slightly, split horizontally, remove skin and seeds and roughly chop
Sauté onions on medium-low heat until translucent
Add fennel and ginger and cook about a minute until you start to smell the ginger
Add the garlic and spices and cook for another minute
Add kale, apples and cooked, chopped butternut squash and mix in with all the other ingredients
Add 4 cups stock, salt and pepper
Bring to a boil and let simmer for 20 minutes
Taste and adjust seasoning to your taste
Stir in fresh chopped sage
Purée soup in blender or with immersion blender. Add additional stock if soup is too thick
Serve garnished with pumpkin seeds and sage
TIP: You can freeze the soup. When you're ready to eat it, just defrost in a pot on the stove over a low heat.