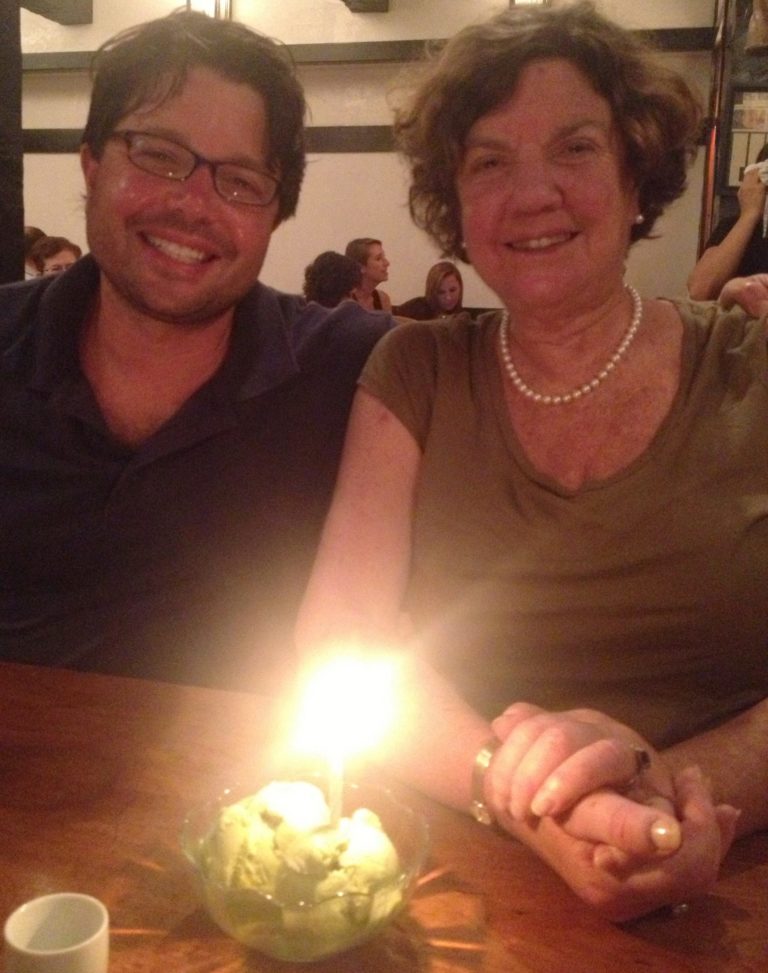 As I reflect on the final night of Hanukkah, the light of the fully lit menorah is etched in my mind. This Hanukkah was especially poignant for me because the first night of the last year's holiday marked the end of the 30-day mourning period (shloshim in Hebrew) following my mother's passing (may her memory be a blessing). Each night as we lit the menorah, I thought about my mom and all of the wonderful experiences we shared together.
My mom inspired my love of Judaism and cooking. We always enjoyed preparing for Passover and other Jewish holidays by trying out new and old recipes with my siblings and children. When I first launched Breaking Matzo for Passover in 2015, my mom's influence could be felt throughout the site. One simple, but sweet, example is that her chocolate matzo mousse cake was one of our most popular recipes and Instagram videos!
Last fall, as my mom's health deteriorated rapidly, I realized that I wanted to make Breaking Matzo: Hanukkah edition a tribute to her. I incorporated her extensive collection of menorahs and dreidels on our site, as well as her delicious puffed pancake recipe. Working at a frantic pace, we were able to launch Breaking Matzo Hanukkah just two days before she passed away. I was so relieved that my mom was able to see her legacy live on through Breaking Matzo, including her love of Judaism, cooking, and family celebrations.
This fall, I was so excited to launch Breaking Matzo: Succot edition. Succot was the last Jewish holiday that I was able to celebrate with my mom. I remember celebrating with her in our Succah as we had always celebrated when I was a young boy. The holiday of Succot celebrates our two Succahs: Succah of Abundance, when we celebrate our bountiful blessings, and the Succah of the wilderness, when we are vulnerable and open to G-d. We simultaneously celebrate both states of being. I am truly grateful for the bountiful and beautiful community of Breaking Matzo. At the same time, I miss my mom very much and am grateful for all of her inspiration and Jewish teachings.
I believe that tradition is repetitive action with meaning. Each new tradition starts with a first. I feel so blessed to have inherited so many of my mom's special traditions and to be able to pass them on to my children—her beloved grandchildren. My daughter, Lucy asked me last year if I was still grieving my mom's death; she added that she felt very sad that her grandmother won't be there with her as she grows up. I explained to her that while I miss my mom terribly, I am comforted knowing that Nana found peace after suffering so much near the end of her life. I also told my daughter that while I wish my mom could see her and the other grandkids grow and mature, we can keep her memory alive by reflecting on Nana's insights and traditions, allowing them to help illuminate our life journeys. In so doing, we can keep the beautiful light of her life aglow for many many years to come.