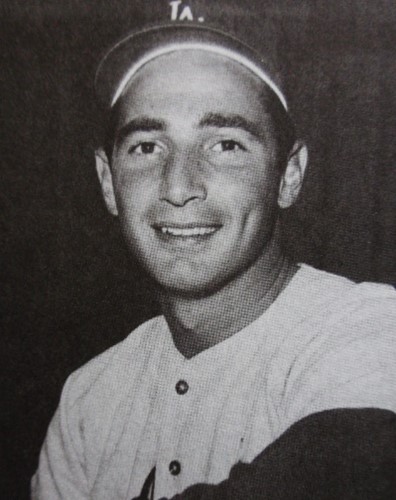 I have always been a huge fan of the game of baseball. The sport is full of history, memory, and meaning to countless individuals across the globe. I'd like to talk about a man that is not only one of my favorite athletes but also a source of personal inspiration: Sandy Koufax.
Sandy Koufax is a former professional baseball player and an incredibly accomplished one at that. He was born to a Jewish family in Brooklyn on December 30, 1935. Koufax's Jewish heritage and faith have always been an important part of his life.
Koufax played as the pitcher for the Brooklyn/Los Angeles Dodgers for 12 years, from 1955-1966. Koufax had a long and successful carrier, earning many awards and accolades. He is widely considered to be one of the best pitchers in baseball history. When he was 36, he become the youngest player to be elected to the baseball hall of fame. He was the first person to win three Cy Young awards. He also won the National League Triple Crown three times, was an All-Star for six seasons, and was the Most Valuable Player in the National League in 1963.
While Koufax is celebrated for what he did playing the game of baseball, he may be best known for the game of baseball he didn't play.
On October 6th, 1965, the Dodgers were playing the Minnesota Twins in game 1 of the World Series. As the Dodgers' star pitcher, it was expected that Koufax would take the mound for the game. There was only one problem, that day was Yom Kippur.
As a devout Jew, Sandy Koufax insisted on observing Yom Kippur. He refused to play the first game of the World Series, prioritizing the Day of Atonement. In Koufax's own words: "A man is entitled to his belief, and I believe I should not work on Yom Kippur. It's as simple as all that."
This act of defiance and faith was an inspiration to Jews across the globe. At a time when many Jews were afraid of rocking the boat, Koufax inspired them to be themselves actively and openly. It inspired Jews to put their faith first and display their heritage proudly.
As for the world series, Koufax returned for game 2, but the Twins were able to win again. The Dodgers started to turn things around by winning games 3 and 4 to tie the series. In game 5, Koufax pitched a complete shutout to seize the game for the Dodgers. For game 7 Koufax had to play with insufficient rest while dealing with pain from early onset arthritis. Despite all this, he powered through and was able to lead the Dodgers to victory both in the game and of the World Series.
Sandy Koufax's brave stand to put his faith and heritage before his career is a truly inspiring story. He showed what it means to be true to oneself even if it might be difficult or unpopular.
Further Reading: For more stories about Jews making baseball history you can read our blog about Israel's historic baseball team that played in the Tokyo Olympics in 2021 here.