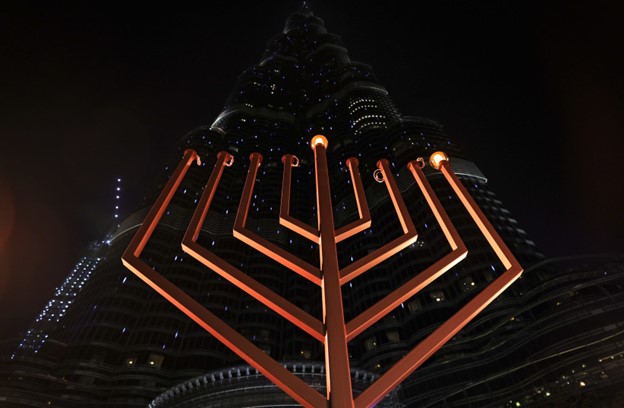 On September 15th, 2020, a historic peace agreement, the Abraham Accord, was signed by four countries: Bahrain, the United Arab Emirates (UAE), Israel and the United States.
On December 10th, 2020, history was made again when Dubai hosted the first Hanukkah celebration since the signing of the Abraham Accord.
This momentous celebration was held at an equally grand location: the Burj Khalifa. Towering over the city, the Burj Khalifa stands as the tallest building in the world.
The event was hosted by Rabbi Levi Duchman, a prominent Jewish figure in the UAE. The night featured prayers, speeches, musical performances, a candle lighting, and much jubilation. The most stunning part of the celebration occurred when the façade of the collosal Burj Khalifa lit up in a spectacular show of blue and white, in honor of the occasion.
Every year, we look to the shining light of the Hanukkah menorah as a symbol of hope and peace. This year, that hope became a reality. The light of togetherness and peace burns brighter than ever before – a light that welcomes the people of all nations to join together in peace and brotherhood.
You can watch a video of this magical and historic Hanukkah celebration here.
Further Reading: 
You can read more about this incredible celebration here.
You can read more about the Abraham Accords here.
You can read about a different historic Hanukkah celebration in Bahrain here.