Converting to Judaism had profound impact on Marilyn Monroe and Abraham. Do you know others who have converted to Judaism? How did it impact their lives? And how did it impact yours?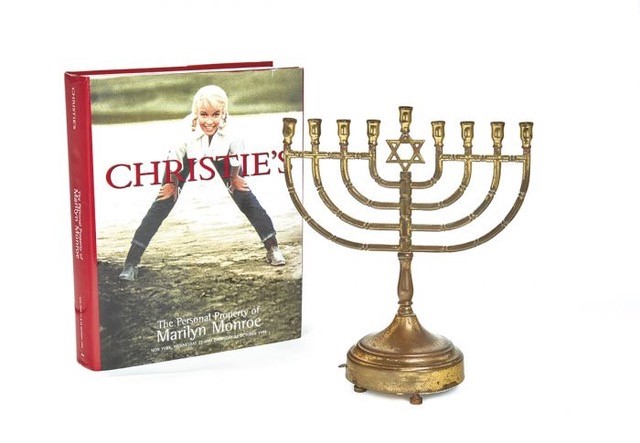 Breakingmatzo.com proudly purchased Marilyn Monroe's Menorah.
When people think of Marilyn Monroe they think of the model, singer and actress of legend. Her life, one of famous scenes, photos and dramas, has long stuck in the cultural zeitgeist. However, few think or even know about her ties to the Jewish community or the fact that she converted to Judaism.
Marilyn Monroe may have been one of the two most famous Jewish converts. Before describing the evolution of her Jewish conversion, I would like to briefly mention the very first convert to Judaism – Abraham.
Abraham was not born a Jew. In Genesis 12:1, Abraham decided to relinquish the connections to his father's land and commit to his faith in God. Born Abram, he received an "H" in his name becoming Abraham, as a sign of Abraham's covenant to God. As the father of Isaac (with Sarai later Sarah with the faith of God, the second Jewish convert) and father of Ismael (with Hagar), Abraham became the patriarch of the Jewish faith and is deeply connected to Islam.
Marilyn Monroe's third husband was Arthur Miller, the famed Jewish intellectual and playwright who authored such well-known works as Death of a Salesmen and The Crucible. Miller and Monroe were a true story of opposites attracting. Each was drawn to the other because of their differences. Marilyn Monroe was attracted to his genius and serious mindedness. Miller found her to embody the freedom and ability to enjoy living life. Their love for each other was genuine and, for a time, they were happy together.
Miller and Monroe briefly met in the early 1950s before she had become a megastar. Though their introduction was brief, it left a lasting impression on them both. When Marilyn Monroe moved to New York a few years later, they rekindled their friendship and began an increasingly serious relationship in 1955.
In 1956, Miller and Monroe got engaged and she decided to convert to Judaism. Miller was not a particularly religious man and did not require it but Monroe insisted on doing so. Marilyn Monroe viewed converting to Judaism both as a show of loyalty and as an effort to be closer to Miller and his family.
Miller reached out to his cousin's Rabbi, Robert Goldberg about Marilyn Monroe's desire to convert. Rabbi Goldberg led a reform synagogue in Connecticut. Monroe and the Rabbi met several times to discuss Judaism, its beliefs, its values and its tenants. Years later, after her death, Rabbi Goldberg released a letter detailing his memories of these meetings (see appendix). Goldberg said that Marilyn Monroe was impressed by the character of the Jewish people, both those she knew from her own life and from history. He went on to say that she was sincere in her desire to learn about Judaism and ultimately came to understand and accept its basic principles.
Beyond Miller, Marilyn Monroe had close relationships with many Jews. Even before her conversion she had a long-held respect and appreciation for the Jewish people. She was quoted saying that "I can identify with the Jews. Everybody's always out to get them, no matter what they do, like me." She saw Judaism not just as a religion but as a community and family that welcomes others with open arms.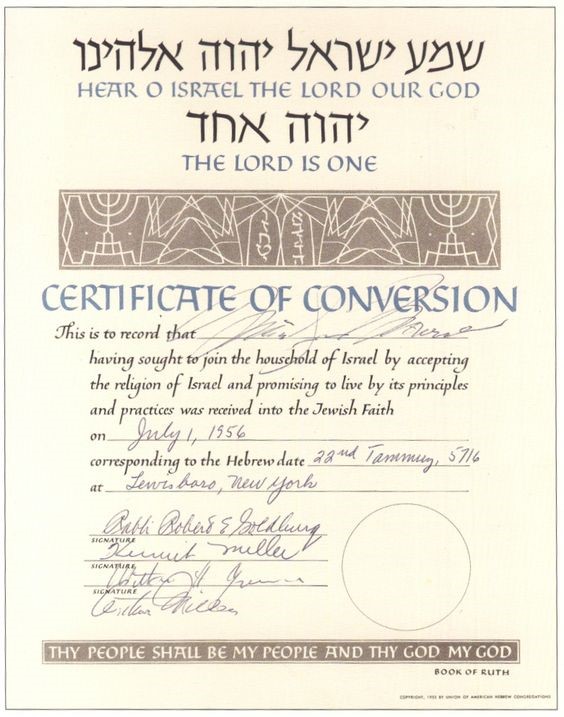 Miller and Monroe were married in a brief civil ceremony at a New York court house on June 29th, 1956. Two days later they had a religious wedding where Rabbi Goldberg performed the ceremony of conversion.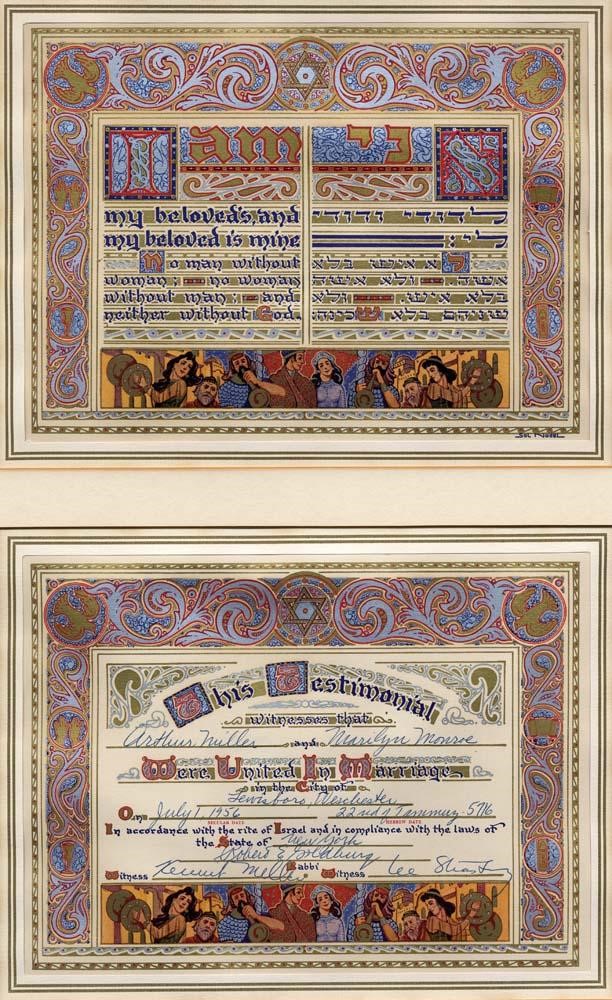 A Kiddush was performed and a Ketubah was signed. In attendance were Miller's parents Augusta and Isidore who gifted their new daughter-in-law with a beautiful brass menorah. They lovingly welcomed Marilyn Monroe into their family and the Jewish community.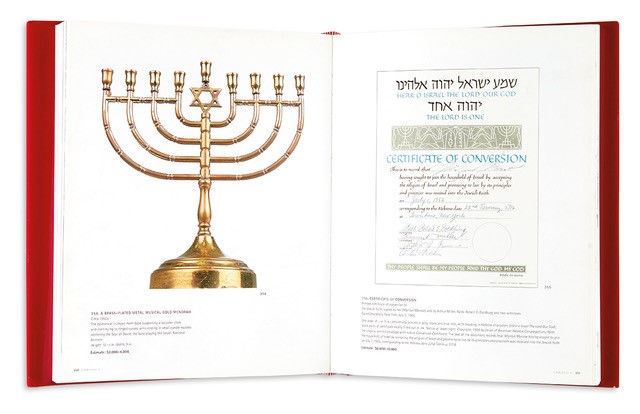 At the time of Monroe's marriage to Miller many Jews saw their union and her conversion as a sign of how far Jews had come from the years of potent anti-Semitism. An unexpected effect of Monroe's conversion was that Egypt temporarily banned her films from the country citing her Pro-Israeli sympathies.
Sadly, Miller and Monroe's marriage did not last. They divorced in 1961 citing incompatibility as the primary reason. Even after Monroe and Miller parted ways, she held on to the brass menorah her mother-in-law gave her. The menorah remained atop Marilyn Monroe's mantle until her untimely death in 1962. It was auctioned by Christie's New York on October 28th 1999. It was displayed at The Jewish Museum in New York city from September 2015 until February 2016 as part of the "Becoming Jewish: Warhol's Liz and Marilyn." It was also on exhibit at The National Museum of American Jewish History in Philadelphia. It was auctioned by Kestenbaum & Company on November 7th, 2019 where it came into Breaking Matzo's possession.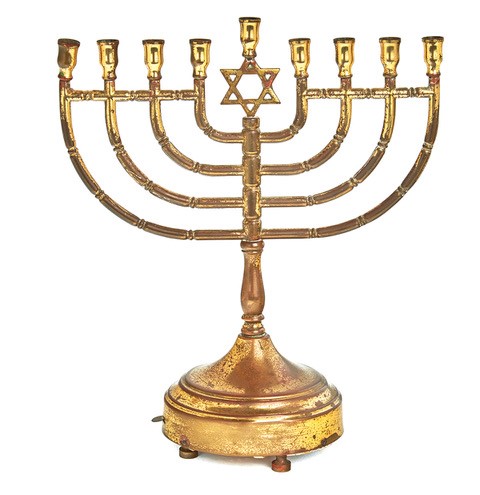 This beautiful brass plated menorah truly embodies the three M's Breaking Matzo stands for. The menorah's past owner and history makes it quite memorable. The emotional weight it holds as a wedding gift passed between families and generations makes it meaningful. What makes the menorah truly magical is an ingenious device built into its base that when wound up plays Hatikvah- the Israeli national anthem that had been provisionally adopted on May 14,1948 when the state of Israel was established just 8 years before the Menorah was given to Marilyn Monroe. This extra element adds wonder and whimsy to a serious piece of Americana and contemporary Jewish history.
Breaking Matzo will be proud to display Marilyn Monroe's Menorah during Hanukkah and light her Candle in the Hanukkah Wind — the wind of Ruach Elohim (spirit of god) to continue to shine light for all to enjoy her legacy and her Jewish connection.
Fun Fact: There have been a number of celebrities who have converted to Judaism. Here are 10 other famous converts:
Sammy Davis Jr.
Isla Fisher
Elizabeth Taylor
Elizabeth Banks
Zooey Deschanel
Tom Arnold
Ike Turner
Ivanka Trump
Kate Capshaw
Connie Chung
Fun Fact: Here is a guide of Marilyn Monroe's romances. Some notable entries include:
John F. Kennedy
Frank Sinatra
Joe DiMaggio
Marlon Brando
Sammy Davis Jr.
Howard Hughes
Nico Minardos
John Carroll
Robert F. Kennedy
Charlie Chaplin Jr.
For more about Abram and Sarai receiving "H" (Genesis 2:1) in their names read Lucy's Bat Mitzvah Speech.
Interesting article about Marilyn Monroe's Jewish prayer book.
Additional reading about Marilyn Monroe's Menorah.
Appendix: Below is an excerpt from the letter Rabbi Goldberg about Marilyn Monroe:
"Arthur said that Marilyn was interested in becoming Jewish and that they would like me to perform their wedding ceremony…He made it clear to me that in no way did he make this demand on Marilyn…I met Marilyn with Arthur at her apartment in New York…I don't remember what I expected but I was struck by her personal sweetness and charm. She seemed very shy. [She] said that she had no religious training other than some memories of a Fundamentalist Protestantism which she had long rejected. She indicated that she was attracted to Judaism by being impressed with Jewish people that she knew, especially Mr. Miller. She said that she was aware of the great characters that the Jewish people had produced and that she had read selections from Albert Einstein's Out Of My Later Years….She indicated that she was impressed by the rationalism of Judaism—its ethical and prophetic ideals and its concept of close family life. After that meeting we met a number of times and she read a few books that I gave her. These included What Is A Jew? by Morris Kurtzer, [Abram Leon] Sacher's History of the Jews, Milton Steinberg's A Partisan Guide to the Jewish Problem, and the Conversion Manual of the CCAR [the Reform rabbinic organization Central Conference of American Rabbis]. We discussed the contents of these books…and I attempted to answer her questions. Marilyn was not an intellectual person but she was sincere in her desire to learn. It was also clear that her ability to concentrate over a long period of time was limited. However, I did feel that she understood and accepted the basic principles of Judaism…The place of the wedding was…the home of Arthur's agent, Kay Brown, in Katonah…Before the wedding ceremony, I performed the Ceremony of Conversion which was witnessed by Arthur Miller, Kermit Miller (his brother), Morton Miller, Mr. and Mrs. Lee Strassberg, and Mr. and Mrs. Norman Rosten."