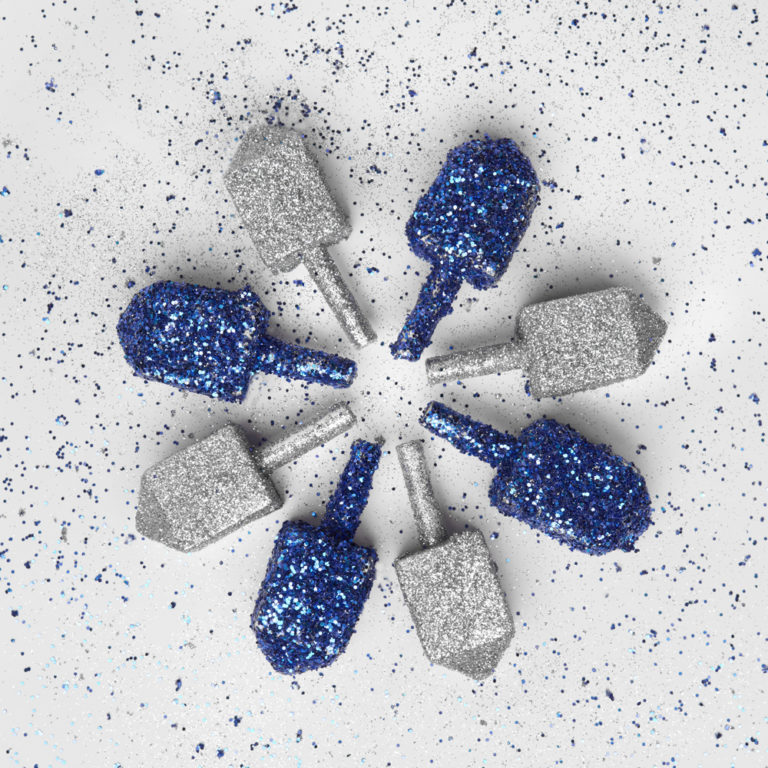 Hanukkah is a magical and meaningful holiday to celebrate with even the youngest members of your family. The basics still make it special — lighting the Menorah, saying the blessings, making latkes, playing the dreidel, and yes, the gifts!
We have had so much fun enjoying the holiday with our kids over the years. Each year as our children have grown, we've found new ways to celebrate with meaning and joy.
We've thought about how we've evolved our Hanukkah celebration over time to make it appeal to the youngest members of our family, and we want to share it with you.
Here's our bare bones Lightning Fast Guide to Hanukkah:

Light the Menorah
Light the Menorah each night and say the blessings. Then pick the candles and set them in the candleholders in the Menorah. Clearly you light the match, and perhaps the Shamash.

Play the Dreidel
Gather everyone around the table to play dreidel.
Teach the basic rules, and keep playing until everyone's a winner. Need a refresher course? Watch our How to Play Dreidel video (scroll to the bottom of that page).
Make your own chocolate gelt, or you can buy it in your local candy store.

Make Hanukkah Food
Latkes – Have the kids help mix the latkes. Older children can flip the latkes in the pan, or arrange the finished ones on the platter. Time saver: Make lots of latkes in advance. You can even freeze them!
Sufganyot – Buy or make a Hanukkah sweet like the jelly donuts

Decorate Your House for Hanukkah
Have the kids help you set the table for our guests or family! Buy a handful of tiny dreidels, some glue and glitter and let the kids make the table extra special!
One night in the holiday, have a manageable sized Hanukkah party at your home. It can be just the family or invite your friends!

Give Gifts
Each member of the family gives one special gift to each other.
Have kids give gifts to the grownups. Kids can make their own gifts.
On other nights, each member can prepare a gift of time (a special  favor, a good behavior coupon, breakfast in bed, etc.) to give to each other or make Wish Stars.