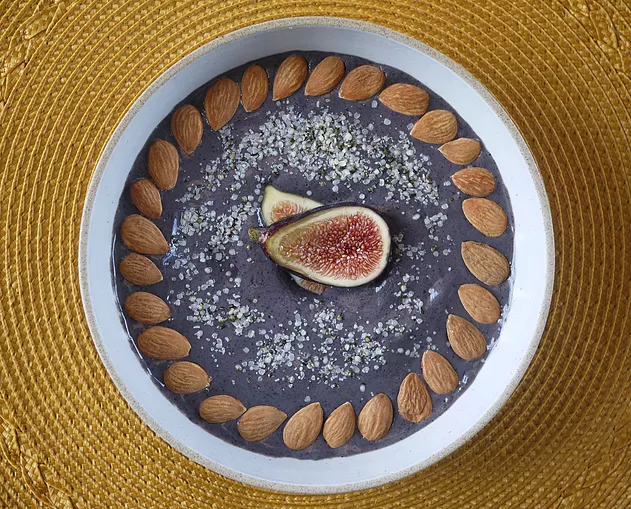 What a way to start the day! A bright purple bowl of blended goodness – full of antioxidants, omega 3s and gut-healthy benefits. Makes a terrific dessert too!
Serves 8 (1/2 cup servings)
Ingredients
2 cups frozen blueberries (Maine blueberries if possible - they are sweeter)
tbsp coconut milk (chill the can and scoop out the thick part)
1 cup hemp milk
1 tbsp almond butter
1 green plantain, peeled and chopped (freeze ahead already peeled and sliced if possible)
1/2 avocado, peeled and pitted
handful of fresh mint
1/4 tsp schisandra (may support endurance & stamina, combat stress, boost immune system and sexual health)
4-6 ice cubes
fresh figs, almonds and hemp seeds for serving on top
Instructions
Put all the ingredients in a blender and purée. Should be a soft serve ice cream consistency

Serve immediately in a small wide and low bowl and add your favorite nuts, seeds and fruit on top
Notes
If the consistency is not thick enough, add more frozen berries (first) or ice (second as you don't want to water down the flavor). You can also put the smoothie in the freezer for about 10 minutes. Don't let it freeze solid as it will be too hard to serve.