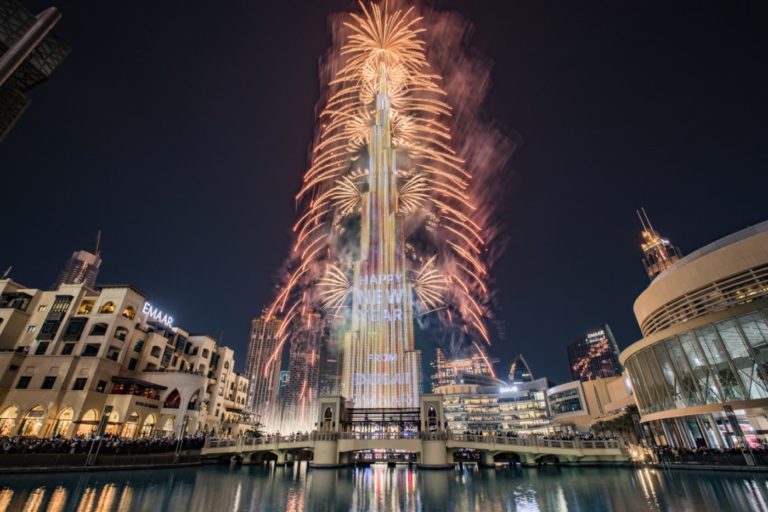 What is your favorite trip you have taken? Why is that trip so special to you?
The United Arab Emirates (UAE) offers a wide range of fun and memorable experiences for visitors to enjoy. Here are some of the top sites and attractions for tourists visiting the United Arab Emirates.
Burji Khalifa, Dubai: This skyscraper is the world's tallest building. It was finished in 2010 and stands at 2,717 feet tall with 162 floors. It was named to honor the president of Abu Zaby the emirate neighboring Dubai. It has multiple observation decks and is surrounded by a large park. It holds restaurants, a hotel, residential floors, a wellness center, and the world's highest swimming pool.
Dubai Fountain, Dubai: Right outside of the Burj Khalifa lies the Dubai Fountain, a stunning piece of art and technological wonder. The fountain contains dozens of water jets, thousands of lights, and over 20 projectors. When combined, the Dubai Fountain puts on water and light shows choreographed to a variety of songs. The fountain's displays can be seen from over 20 miles away and it can launch water up to 500 feet in the air.
Burj Al Arab, Dubai: This luxury hotel is the seventh tallest hotel in the world. It stands on a private island connected to the mainland of Dubai and is shaped to resemble a ship's sail. The hotel offers some of the most luxurious and elegant amenities one can find. There are 6 restaurants, a private beach, a helicopter shuttle service and more. It is often referred to as the only seven-star hotel in the world.
Dubai Aquarium and Underwater Zoo, Dubai: Dubai is home to one of the most impressive aquariums in the world. There is a massive central tank that holds over 100 different species of marine life. They also have a 48-meter-long tunnel running through an aquarium tank that you can walk through, surrounded by the ocean life all around you. The aquarium has everything from sharks, penguins, crocodiles, and more.
Mall of the Emirates, Dubai: This shopping mall was built in 2005, when it opened it was the largest mall in the world. The mall boasts over 800 retail outlets and more than 100 restaurants. It also contains such offerings as an indoor ski resort, the Olympic sized Dubai ice rink, a community theatre and art centre, the 14-screen Reel Cinema multiplex, a roller coaster, an arcade, a carousel,  EKart Zabeel's next generation electric go cart track, and the Middle East's first ever VR park.
Dubai Opera, Dubai: Dubai Opera is a multi-format performing arts centre and theatre. It is the first theatre of it's kind in Dubai. The theatre has hosted world renown operas, singers, and other performers. It can also be used for galas, weddings, and fashion shows. The building is shaped like a dhow, a type of Arabic boat. The theatre is an architectural marvel that can be transformed into three different modes as needed. It can be a traditional theater, a concert hall, or be turned into flat floor event hall.
Ski Dubai, Dubai: When most people think of skiing, they think of snow covered mountains, but you can actually go skiing in the heart of the Middle East. Located inside the Mall of the Emirates, Ski Dubai is an indoor ski resort. The building is kept between -1 and 2 degrees Celsius year round to maintain the snow. There are 5 slopes of varying lengths including the world's first indoor black diamond.
Desert Safaris, Dubai: There are a variety of companies that offer tourists the chance to explore the sandy deserts of Dubai. These tours consist of a mix of driving and riding on camels. They frequently include traditional food, belly dancing, fire shows, and more. I recommend doing an evening tour, seeing the sunset and stars in the desert is a breathtaking experience.
Al Safadi Restaurant, Dubai: Al Safadi is a local chain of restaurants that serve traditional Lebanese food. They make some of the best Lebanese food in all of Dubai. The delicious dishes they make include shawarma, hummus, grilled halloumi cheese, and a Lebanese flatbread called manakish. If you get the chance to eat here, I highly recommend it, it's an incredible culinary experience.
Louvre Abu Dhabi, Abu Dhabi: The Louvre is synonymous with France, but did you know they have a location in the United Arab Emirates as well. This art museum was opened in 2017 and was inaugurated by French president Emmanuel Macron. The new Louvre is part of a 30-year partnership between the two Louvres and the two nations. It is the largest museum on the Arabian peninsula and holds a wide range of both Eastern and Western art.
Dubai Creek Dhow Ride, Dubai: Dhows are a traditional form of wooden boats that have been built and used in Dubai for centuries. There are a variety of companies and tour groups that offer trips along the Dubai Creek, a water way that runs through the heart of the city. One can see the sights of the both the old city and the new hypermodern developments. Additionally, many tours offer onboard dinner and traditional entertainment.
Ras Al Khor Wildlife Sanctuary, Dubai: This wildlife sanctuary protects a region of wetland on the edge of Dubai. It is a stopping point for large numbers of migratory birds. It also hosts a wide range of animals in its local ecosystem. Its most famous residents are the hundreds of greater flamingos that call the park home. These pink birds have become the unofficial mascots for conservation efforts in Dubai.
Jumeirah Beach, Dubai: This beautiful white sand beach sits on the Persian Gulf. The beach is open to the public and is a popular spot for visitors to Dubai. In addition to the natural splendor of the beach itself, it is lined with hotels, shopping complexes, resorts, and restaurants.