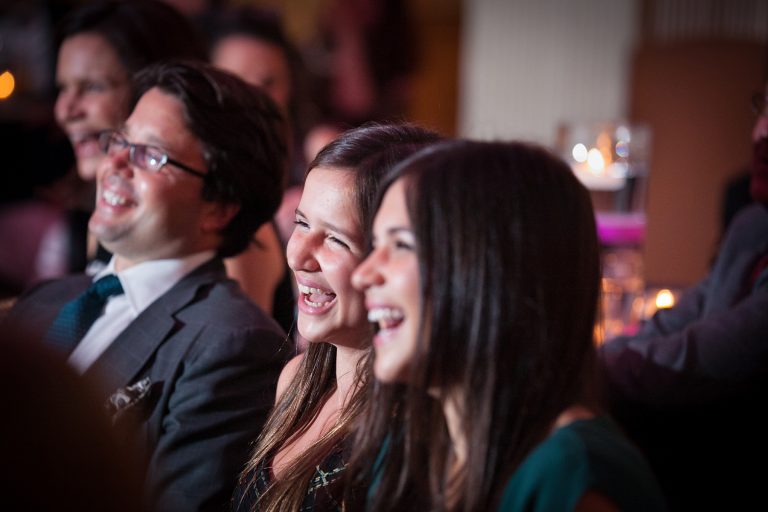 Left to right: Rachael (Lucy and Caroline's mom), Andy, Lucy, and Caroline (Andy's daughters) enjoy the photo montage Andy created.
The Bar/Bat Mitzvah is rite of passage, but it's not just the young teen who is going through a journey of sorts.
In a sense, the Bar/Bat Mitzvah ritual is also a rite of passage for us as parents who are beginning the process of letting go: letting our son or daughter transition to adulthood and begin to accept responsibilities for their actions, to be more accountable as a member of their community.
As a parent, I found the process of creating photo montages for both my daughters' Bat Mitzvah celebrations to be somewhat therapeutic. The project was a milestone moment for me to stop, reflect, revisit and assemble a story of my girls' journey for birth to bimah (the platform at the front of the synagogue's sanctuary where prayer is led.)
The Bar/Bat Mitzvah photo montage has been a highlight of many celebrations for years. The execution of the montage has evolved as photography has evolved. In some ways, they're easier than ever to produce. As a young father, I would spend hours getting photos developed. Then my work began: cutting, pasting, assembling. Today I can create a vibrant multi-media presentation with special effects and music in seconds; or I can create beautiful books using any number of online tools.  But creating has also become more difficult:  Technology and the ubiquity of cameras on our personal devices means that we are faced staggering number of photos to sort through. The entire project can be overwhelming.
Getting started
Sure, you can pay someone to create a photo montage video presentation for you. You can turn over shoeboxes, disks and drives with thousands of photos and wait a few weeks. You can be your own producer and use the latest video editing software adding cool visual effects, glitz and music. But in my mind the best montages are the simplest. They come from the heart. And when you pace yourself and break the process down into small, manageable steps, they're not very difficult to do. Plus, you experience getting to view hundreds, ok…thousands, of photos for a trip down memory lane. What can be more precious than that?
Whether you're creating a simple scrapbook, a slideshow or a video montage with music and special effects the preparation is the same. Researching and locating representative photos from each year of life, milestones, family and friends.
It's easy, right?
Wrong. It's daunting. But think about the look on your child's face when they see their life in review. Think how special your family and friends will feel when they see that you chose to highlight them in your montage. You're creating legacy for your children (and their children) to enjoy for years to come.
Thousands of choices, but what makes a "magical" photo
A magical photo is simply a photo that captures a moment and creates a feeling: happy, sad, thoughtful. There are many elements that go into a good photo, ad everyone's tastes are different. It's up to you to know when you've captured a magical moment.
A basic formula
This is a basic formula to help you organize your Bar/Bat Mitzvah photo montage. This is meant to give you a starting point. My personal advice: Don't edit yourself. Don't get stuck because you can't decide between one photo over another. Go back and edit yourself later, and then go back and edit again. The best writers aren't necessarily great writers, they are excellent editors.
Individual pictures of the child, birth through 13 years: 12-18 photos
Immediate family: about 12-18 total photos

Entire family: 4-6 photos
Child with siblings: 4-6 photos
Child with parents: 4-6 photos

Child with grandparents: 4-8 photos; start with the earliest photos and the most recent.
Child with other relatives: 8-12 photos

Child with cousins: 4-6 photos
Child with aunts and uncles: 4-6 photos

Child with (current) friends: 8-10 photos
Child with special people (although we don't have "god parents" in the Jewish faith, we still have people we consider very close to our family.
Once the "people" category is completed, spend a little time gathering some milestone pictures:
First/last day of school
Family vacations
Family holiday celebration
Now think about organization: you may wish to display your photos in chronological order (my personal preference) or grouped by theme: family, friends, activities, vacations, interests, etc. This is purely a personal preference.
You will have about 70-100 photos. At 4 seconds per photos, you've just created a 5-7 minute slideshow montage.
Opinion varies on what an optimal duration is. You don't want to make your guests sit through a 30-minute presentation while the food is getting cold and the DJ is on the clock. Something short, easily digestible. A 3-5 minute montage is a good starting point.  But for some, a 13-minute video makes sense – that's one minute for each year. If you are including many of your guests in your montage (pictures of relatives, friends, etc.) they'll be more than happy to sit through it!
Beyond Bar/Bat Mitzvah
The Bar/Bat Mitzvah won't be the last time you'll want to create a photo montage of special people. There will be so many reasons to chronicle the most important moments in life: trips or other milestone events. Whatever the event, the presentation is guaranteed to bring a smile to everyone's face and a (happy) tear to their eye.
Additional Resources
Photo Butler is a free app that will allow you and your guests to automagically and private share your party photos. It is entirely private. You can choose who gets to see your photos and contribute photos. The best way to enjoy is to set up a Photo Butler stream during your event – all guests who attend can contribute photos. All guests (who cannot attend) can view the event photos during the event. In addition, you will have so many photos from your friends and not have to worry about asking your friends to text / send you photos afterwards. It is basically the technology revolution of the throw away cameras that used to be placed on each table at a party.  Here is an overview video about Photo Butler and here is a link to the app.