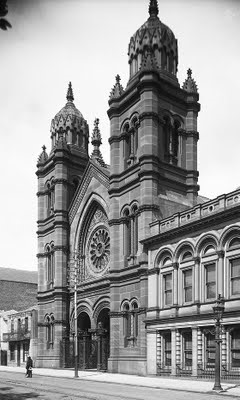 Great Synagogue of Sydney
The history of Jews in Australia began with the first ships the British sent there to establish a penal colony. Aboard the British First Fleet ships comprising were 8 to 14 Jewish convicts. Jews remained amongst the criminals Britain consigned to Australia until 1857 when penal transportation became uncommon (though the practice was rarely used it wasn't formally abolished until 1868). Many of the Jewish convicts served their time and remained in Australia as free citizens.
Amongst the early Jewish convicts brought to Australia there were a few particularly notable ones. John Harris, after serving his sentence, became the first policeman in the Australian colony. Esther Abrahams, convicted for?, married the Australian Lieutenant Governor George Johnson becoming the unofficial first lady of the colony. Edward Davis became a famous bushranger, a type of Australian outlaw known for armed robbery — using the wilderness as his base of operations.
Despite their criminal origins, Jews never faced large-scale or institutionalized anti-Semitism. Since Jews arrived alongside other white European settlers they were not widely seen as alien or other. This meant Jews in Australia enjoyed a normalcy in their lives not seen in most of Europe at the time. In Australia, there were never laws or formal policies targeting Jews. They were free to participate at all levels in social, civil, and economic society. The general acceptance of Australian Jews was further bolstered by the fact that the first 150 convicts sent there were predominately English speaking and loyal to Britain. They viewed themselves as proud Anglo-Australians and dedicated Britishers who were of the Jewish faith. Anti-Semitic stereotypes and sentiments did exist in Australia, however no mainstream movement against them ever emerged.
When the Australian colony was first settled, the Church of England was the religious authority. All convicts were required to attend Sunday services. In 1817, a Jewish Burial Society was formed in Sydney, the first piece of organized Jewish life in Australia.
In 1821, the first free Jewish settlers arrived. By the mid-1820s there were around 100 Jews living in Australia. The first regular Jewish services were held in 1828 out of the house of business man Philip Joseph Cohen. This congregation outgrew Cohen's home and in 1831, they rented out a building. Australia's Jewish population was growing and by 1841 there were over a thousand Jews living on the continent. The first synagogue built explicitly for Jewish worship was opened in 1844 on Sydney's York Street. Sydney wasn't the only city with a large Jewish population, Melbourne and Perth had established populations of Jews as well.
In 1851, prospectors discovered gold near Bathurst and Victoria, spurring one of the world's largest gold rushes. Hundreds of thousands from Britain and around the world came to Australia seeking fortune. Many Jews were amongst them, often finding success in opening community stores around the goldfields. By 1861, the Jewish population in the country had grown to approximately 5,500. While many of these newcomers lived throughout many of Australia's smaller towns, they soon began moving to cities with larger Jewish populations. The Jewish population in Sydney grew so much that, in 1878, the Great Synagogue was constructed to accommodate an increasingly large congregation. The Great Synagogue still stands today and is a Sydney landmark.
In the late 1800s and early 1900s, Jews from Russia and Poland began coming to Australia fleeing the pogroms of their native countries. Many of these newcomers spoke Yiddish and brought with them their own traditions and customs. The Anglo-Australian Jews feared that their perceived otherness would negatively affect their societal standings. As a result, they adopted a policy of playing down any customs or behaviors that could seem odd to non-Jews whileplaying up their Australian patriotism. This lead to a rise in interfaith marriages and an overall decline in Jews actively practicing the religion. There were fears that the Jews would fully integrate and assimilate into the general Australian population.
During the 1930s, major changes to the Jewish population began.Australia had a strict immigration policy designed to keep non-British immigrants out. As word of the horrors of Nazism in Europe reached Australia, government members worked to alter immigration quotas to allow more European refugees entry. At first such measures failed but in 1938, after Kristallnacht (a pogrom against Jews carried out in Nazi Germany), the Australian government agreed to accept thousands of Jewish refugees. Before the outbreak of World War II, more than 7,000 Jewish refugees fleeing Nazism immigrated to Australia. In 1940, 2,000 additional Jews arrived after being deported from Britain aboard the HMT Dunera.
After World War II, between 1946-1954, more than 17,000 Jews arrived in Australia from Europe and China, most of them holocaust survivors. By 1961, another 10,000 Jews had come to Australia, many of them fleeing the Hungarian uprising or coming from the Middle East. In the 1970s and 1980s waves of Jewish immigrants came to Australia from the USSR and South Africa. The Jewish population continued growing and there are now over 110,000 Jews living in the country.
Australian Jews have long placed a huge emphasis on education and schooling. The first Jewish day school opened in 1885 in Melbourne. Today there are 19 such institutions. Over 70% of Australian Jews spend at least part of their education attending nongovernment Jewish schools. Due to the rising costs of these private schools, there has been an increase of Jews attending government/state schools. Groups like the United Jewish Education Board help ensure these students still receive an adequate Jewish education.
Jews have held some of the highest positions in the Australian government. Namely the Governor General (the representative of Australian Monarch) whose duties include serving as President of the Executive Council and Commander and Chief of the armed forces. There have been two Jewish Governor Generals: Sir Isaac Isaacs (1931-1936) and Sir Zelman Cowen (1977-1982). Many other Jews have held other positions in Australian national and local governments.
Australian Jews don't have much in the way of unique traditional fare. The Anglo-Jewish Australian's policy of active assimilation meant they didn't actively seek to create their own cuisine outside of mainstream Australian food. As Jewish immigrants and refugees came to Australia from all around the world, they brought their traditional foods with them and shared them with the community. Currently the Australian Jewish cuisine is a tapestry of different cultures and influences from across the Jewish Diaspora.
The Australian Jewish community is vibrant and diverse. The fear of Australian Jewry being lost to assimilation has dissipated. There are Jews from all over the world living there and congregations of a variety of denominations have formed.
Fun Fact: Jews have served with distinction in the armed services from the Sudan Offensive of 1885 onwards. During World War I 13% of Australia's Jewish population voluntarily enlisted. Amongst them was General Sir John Monash: Commander of the Australia Corps during WW1. He is considered one of the greatest generals of the allied forces during the war.
Fun Fact: Melbourne's Jewish community has the highest percentage of holocaust survivors of any Jewish community in the world.
Peak Population of Jews in Australia: Today! There are at least 113,000, though many believe that number is higher.
Population of Jews in Australia Today: 113,000 at a minimum. Since the question about being Jewish on the census is optional and many groups of Jews prefer not to answer, it is possible the number of Jews has been undercounted. Depending on the exact count Australia has either the 9th or 10th largest Jewish population in the world.
Population of Australian Jews in Israel: Approximately 7,000